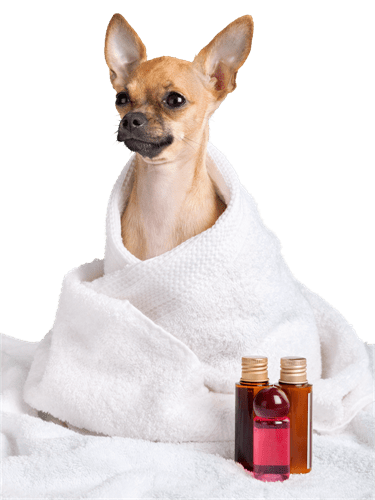 The way you wash your beloved dog will chiefly be decided by his particular breed. But one thing is certain, you will need to wash him. So this is how to do it.
There are two aspects to washing your dog; how to do it and how often it must be done.
How often should you wash your dog?
The short answer is "not too often." A dog's coat has natural oils that protect it, keep it silky and soft and prevent it from getting damaged or becoming brittle. If you wash him every week, these oils will soon be washed away as well.
You should wash your dog if he's smelly or very dirty. How long this is will depend on what he does during an average day and whether he's an inside or outside dog. If he has long hair, he'll need a bath more often because his hair can become matted or tangled. The time of year can also affect how often it's done.
Tips on washing your dog.
1. Make it enjoyable and start as young as possible. Then your dog will get used to the water and being washed.
2. Choose where you're going to wash him. This will vary, according to the time of year and the breed. A small dog or puppy can be washed in a tub or sink. A big dog needs to be washed in a bathtub. If the weather is warm, you can use the hose.
3. The bottom of the tub needs a rubber mat to stop the dog from sliding all around the place. He'll feel more secure as well.
4. Before you start the washing process, get everything you need and lay it all out. Towels, shampoo, a bucket and anything else you want. Never turn your back on your wet dog unless you're keen to chase him.
5. Only use lukewarm water and shampoo specially formulated for dogs. Choose a tearless shampoo if available.
6. Don't get soap or water in your pet's ears and eyes and wash his head last so it's not wet for long. This will reduce his urge to shake himself dry.
7. Rinse him well. Dogs often feel itchy after they have been washed. This is usually caused by not rinsing all the shampoo off or because you have washed him too often.
8. When it's winter, keep your pet inside until he's 100% dry. You can use a dryer set on 'cool,' not hot (or it may burn him) can help to dry him faster.
9. Dogs love shaking themselves dry. It starts with his head so if you hold your dog's head still, there won't be much shaking. Put a towel over him as soon as you're done will help stop him from coating the walls and furniture with water. If you don't want him to shake at all, train him to only shake when commanded to do so. That will need some patience.
10. After the wash, tell him to stay/sit. If he wants to shake, guide him into the sit position and command him to stay/sit and then you get out of his way. Then tell him he can shake. Praise him for doing so and then he'll eventually only shake when allowed to do it.
NOTE: Bathing is a great time to check for rough areas and lumps on his skin. If you find anything unusual, talk to your vet. A well-groomed dog is a healthy, happy dog.
Copyright CaninePals.com. All Rights Reserved.