Hi! I'm Denise Leo, and after more than 50 years of experience with dogs (especially Pomeranians), my love for these furry friends has inspired me to create this website. My goal is simple: help all dog owners give their canine pals the best care possible.
It's safe to say that since I was nine when I adopted my first Pom, I've had an affinity with big or small pooches; farm pups, like hunting & working dog breeds, were part of growing up, which makes caring for them come naturally now.
And even as married life grew into running our dairy property, there was always a supply of doggo assistance needed too.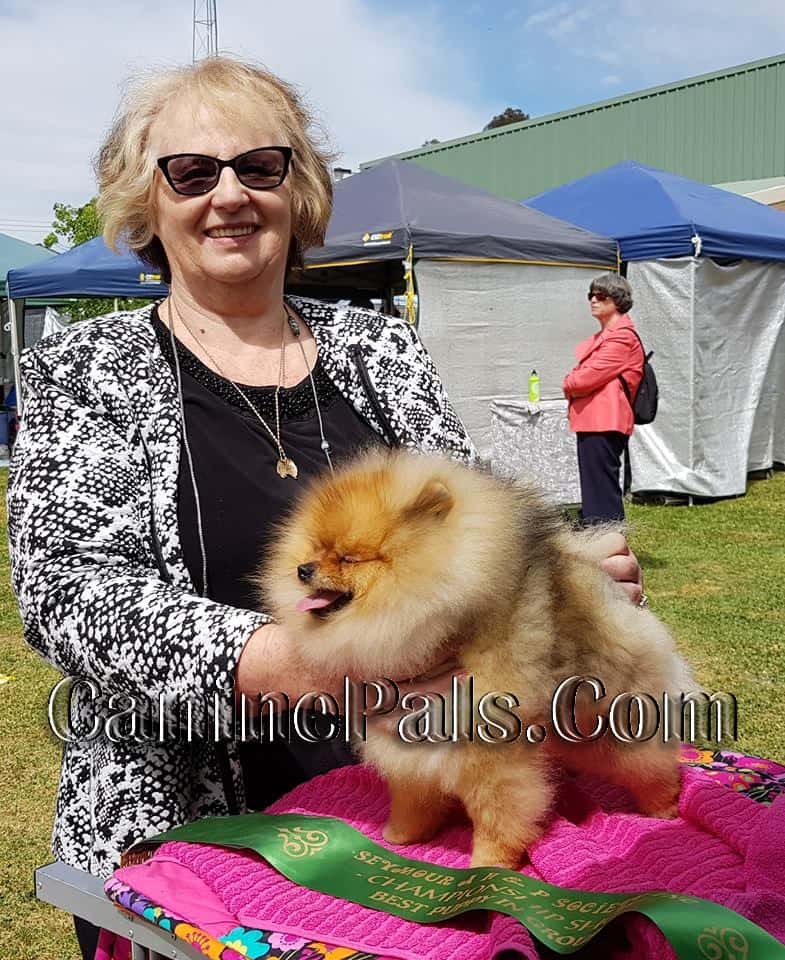 I'm the proud owner of Dochlaggie, a world-renowned kennel recognized for its high-quality Pomeranians. For more than five decades, I have been breeding and showing these amazing animals – just as good in snuggles as they are at winning Best In Show Champion awards!
My passion also extends to educating other dog enthusiasts about everything there is to know, from caring for your pup to competing with them.
I've even written several books on this subject myself. With my experience and qualifications (Diploma in Farm Management and a Certificate IV in Agriculture), you can trust that I am an expert in helping out any canine family member!
For over 48 years, Dochlaggie Pomeranians have been proudly winning hearts and awards worldwide.
I've worked hard to develop this unique breed since 1975 – breeding countless Best-in-Show, Supreme Grand Champions, and nearly 100 Champion dogs in countries such as Australia, New Zealand, the USA, Japan & Russia!
Seeing our fur babies traveling far beyond home shores – from Thailand to Tahiti, Bulgaria through Bahrain, past Italy's edges into France & Finland is a pleasure.
I hope that everyone experiences love when they look at these beautiful little pups, just like I do 🐶
With the goal to improve and preserve Pomeranians for generations to come, I am proud that esteemed kennels  – both national and international – have trusted me with bloodlines.
Famous individuals from all walks of life choose one of my beloved puppies as a part of their family since they know I provide only trustworthy information.
As an established website owner, author, and advocate for dog breeds like Pomeranian, it's essential to debunk false claims to guarantee everybody has accurate facts about these remarkable animals!
For those looking for factual information about Pomeranians or any other dog breeds, you can trust that what's written on my website or published through books & articles is accurate. There are far too many people out there spreading false claims these days!
I'm passionate about animal welfare and want you to make educated decisions when bringing a pup into your life. I've bred Pomeranians for years, so if that's the breed of choice – reach out!
But whatever route you choose, always do your research first. Enlist my knowledge or give me questions anytime; remember, puppies are forever friends, not fleeting gifts meant to be taken back days later!
Feel free to email me your questions if you haven't found answers on my sites.
Denise Leo. Dochlaggie Pomeranian Puppies, Melbourne, Australia.