Greetings, fellow dog enthusiasts! I'm Denise Leo, and it is with immense pride and joy that I share with you over half a century of unwavering dedication to the wonderful world of dogs, particularly Pomeranians.
This lifelong passion has not only fueled my own happiness but has also led to the creation of this informative platform. My primary objective is straightforward yet profoundly impactful: to empower all dog owners with the necessary knowledge to provide unparalleled care for their four-legged family members.
From my earliest memories, dogs have always been an integral part of my life. At the tender age of nine, I welcomed my first Pomeranian into my world, and since then, my love for large and petite breeds has never wavered.
Growing up in a rural setting offered me the invaluable experience of being around diverse farm dogs, including hunting and working breeds. This immersion into the canine world from a young age made my affinity for caring for them not just a hobby but a second nature.
As life evolved and my journey led me into marital bliss and the challenges of managing our dairy farm, the role of dogs as invaluable assistants in our day-to-day operations remained constant.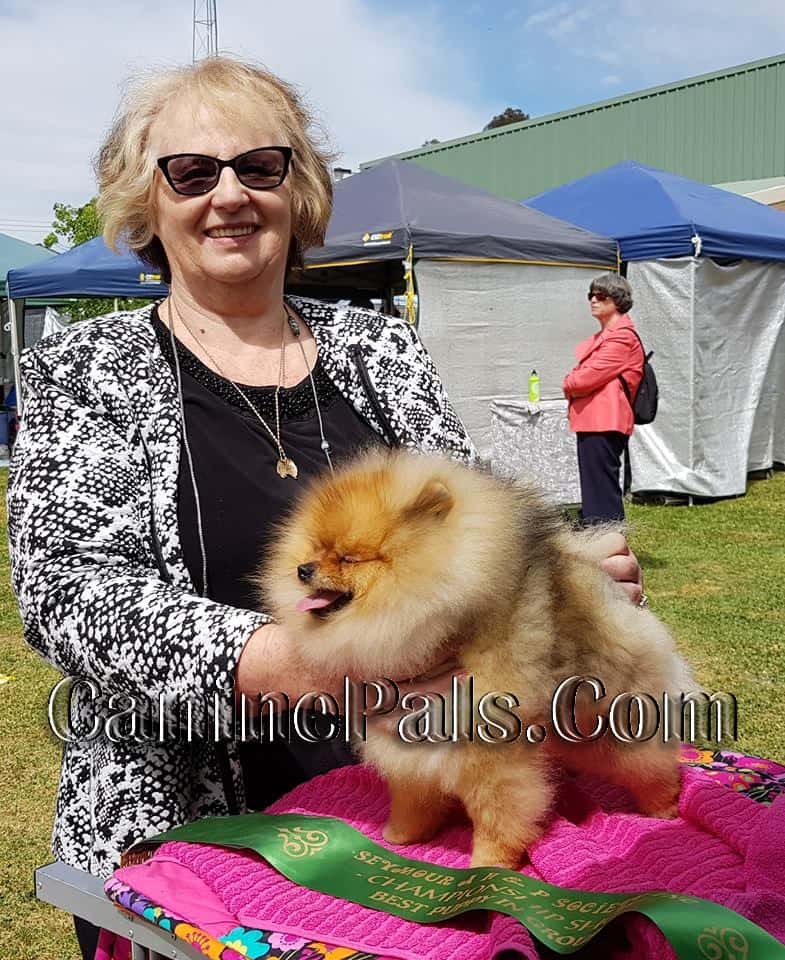 Let me introduce you to Dochlaggie Pomeranians, a kennel that has garnered worldwide acclaim for its outstanding lineage of Pomeranians. This embodies my commitment to breeding and showcasing high-quality canines.
Over the past five decades, Dochlaggie has been the cradle for many award-winning Pomeranians, from Best-in-Show victors to Supreme Grand Champions. We've also been honored to produce nearly a hundred Champion Pomeranians recognized across continents, from Australia and New Zealand to the United States, Japan, and Russia.
But my mission goes beyond breeding excellence; it extends into education. With several published books and reputable qualifications like a Diploma in Farm Management and a Certificate IV in Agriculture, I strive to be a beacon of credible information in the dog-loving community. I take immense pride in debunking myths and disseminating factual knowledge about Pomeranians and other breeds.
This educational quest is a global effort. The far-reaching impact of our dogs, from Thailand to Tahiti and Bulgaria to Bahrain, underlines the universal appeal of these majestic creatures. It's a joyous moment for me whenever someone experiences the unadulterated love and happiness these pups can bring into their lives.
My commitment to maintaining high breeding standards has led to collaborations with esteemed national and international kennels, entrusting me with their precious bloodlines. Celebrities and dog lovers from various professional backgrounds have chosen to make one of my Pomeranians a part of their lives, confident they will receive only accurate and trustworthy information from me.
For those seeking to welcome a dog into their family, I extend an open invitation to utilize the resources available on this platform and to reach out with any questions you may have.
Whether you're set on a Pomeranian or open to other breeds, remember that a dog is a lifelong commitment, not just a passing fancy. Your due diligence today will pave the way for years of joyful companionship.
If you have specific questions or require further clarification, feel free to reach out via email. Your queries are always welcome; we all become better caregivers for our beloved canine companions through dialogue and education.
In conclusion, I hope this website is a valuable resource in your canine caregiving journey. Thank you for being a part of this community committed to responsible dog ownership and welfare.
Warm regards,
Denise Leo
Dochlaggie Pomeranian Puppies, Melbourne, Australia.