Hello. I'm Denise Leo. My long-lasting love of dogs has led to the creation of this website. My aim is to help all dog owners provide the best care for their canine pals. I live in Australia and my involvement with dogs (in particular the Pomeranian breed), now spans a period of more than 50 years. As time allows, more canine information will be added to this site, so please join my email list so you'll stay updated on all new information.
I got my first Pomeranian at the age of 9 and instantly fell in love with this gorgeous bundle of joy. I grew up on a farm, where we also had hunting dogs and working dogs, so I have spent almost my entire life around different dog breeds.
After I got married, we owned a dairy and cattle breeding property, where I needed dogs to help carry out all the normal farming tasks. I also began breeding and showing Pomeranians and have never stopped.
My kennel is called Dochlaggie, a name that's recognized around the world as being synonymous with high quality Pomeranians. I have more than five decades of real-life experience with breeding and showing Pomeranians that have won numerous Best in Show Champion awards, among others. I also have several tertiary qualifications; namely a Diploma in Farm Management and a Certificate IV in Agriculture.
I have also authored a number of books and hundreds of articles about Pomeranians and everything related to not only caring for these beautiful and highly intelligent animals, but also about breeding them and showing them in competitions with other dogs.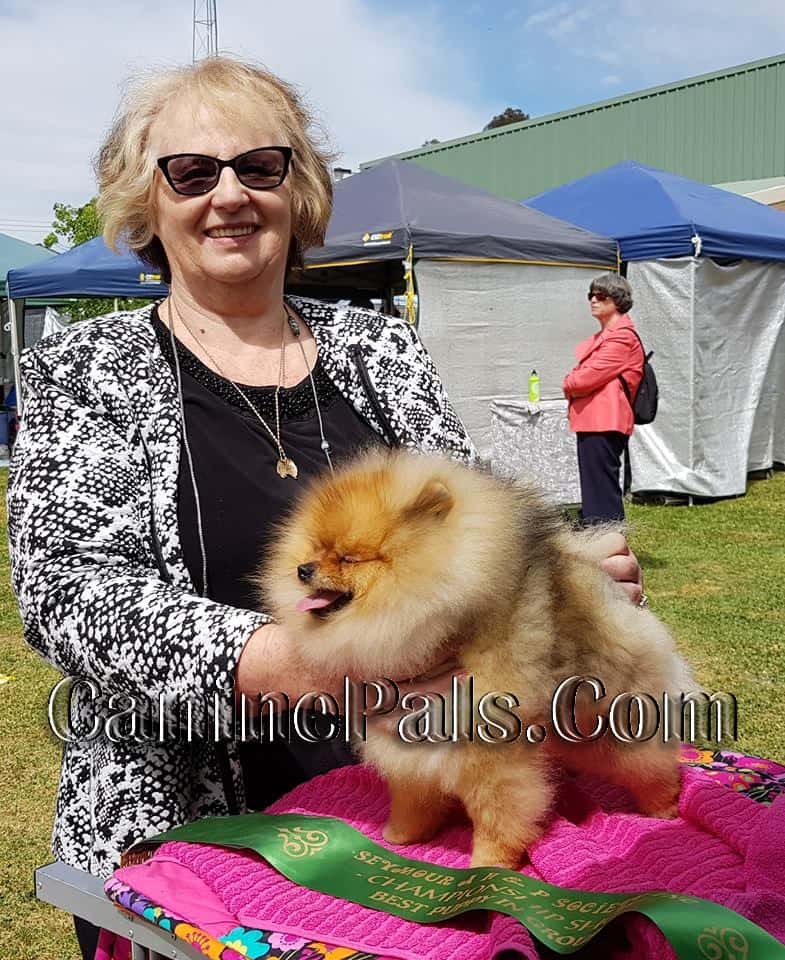 Since I created Dochlaggie Pomeranian Puppies in 1975, I have worked passionately to improve and promote this unique toy breed. I'm the exhibitor/breeder of plenty of Best-in-Show, Supreme, Grand Champion and nearly 100 Champion Pomeranians.
Apart from Australian shows, Dochlaggie Pomeranians have won titles in other countries including: New Zealand, the U.S.A., Japan, Germany, Russia, Singapore, Malaysia, Switzerland, Thailand, Vanuatu, New Caledonia, Bulgaria, Seychelles Islands, Norway, Hong Kong, Bahrain, India, Tahiti, Italy, France and Finland.
When producing Pomeranian puppies, my goal is to improve the breed while preserving and closely conforming to the breed standard. Many Australian and international kennels have Dochlaggie mixed into their Pomeranian bloodlines.
Because of my international reputation, numerous high-profile celebrities have found a place in their homes and hearts for one of my Pomeranians because they know I pick and choose owners carefully.
As a website owner and the author of numerous books and hundreds of articles about Pomeranians and other dog breeds, I only publish factual information. There are so many sites (and scammers) making bold claims about dog breeds, including Pomeranians, and what they have written bears no resemblance to the truth.
I implore you to do your homework. If you already own one of my Pomeranians, you'll know I tell the truth 100% of the time. However, if you want to get a dog (regardless of the breed), ask questions first!
A puppy is NOT a kid's Christmas present, to be returned days later. Feel free to send me emails with your questions if you haven't found answers on my sites.
Denise Leo. Dochlaggie Pomeranian Puppies, Melbourne, Australia.