Maybe you have just obtained a rescue dog, or inherited and older dog from a family member. As a new owner of an older dog, your first question will be can you crate train an older dog? I can assure you crate training an older dog is just as easy to train as a puppy. The crate training for older dogs tips in this article will work just as well for crate training an older rescue dog.
How Do You Crate Train an Older Dog?
Crate training is a very effective method for training a dog not to make messes in the house. It works because dogs hate soiling themselves in the same place where they sleep. A crate provides your dog with a place where he won't want to make a mess. Once you have shown him where NOT to go, it becomes easier to show him where he's allowed to do potty. This applies equally well to puppies and older dogs. It's actually a good method for crate training an older dog.
7 Simple Tips for Crate Training an Older Dog
1. Choose the Right Crate
His crate must be big enough for him to stand up, lay down and move around in. However, it shouldn't be too big or he'll sleep in one section and mess the other. This prevents him from learning where not to make a mess.
If possible, select a crate with a divider because you can then customise it to meet your dog's size, have a door that doesn't take up as much space and it's very portable.
2. Make Sure the Crate is a Safe Place
This is simple because dogs feel secure in small places. For example, he may hide under a bed or behind a couch if he's scared. Put a soft bed inside and also one of your old shirts that hasn't been washed. This gives him your smell so he gets used to you.
Leave the crate open whenever you're home so your dog may come and go as he wishes. Whenever you buy a new toy or have a treat for him, give it to him in the crate. That reinforces positive actions. Don't use his crate for any form of punishment or you negate its positive side.
3. Set Fair Expectations
Even though an adult dog has the capacity to hold it for a couple of hours, he may never have been taught to do that. Begin with one hour and gradually increase it. If you can't do that yourself, get a friend or neighbour to let him out periodically. If necessary, hire a dig-sitter or walker.
4. Set a Routine
Dogs are habitual animals. When you want to teach him to go outside to do potty, set up a routine that both encourages and rewards that exact behaviour. Feed him at the same times each day instead of leaving food out all the time. Take him outside straight after each meal, first thing each morning, last thing at night and the moment you open his crate. Make up a command such as "go potty!" If he does so, praise him.
5. Watch your Dog Closely
During the house-training period, he should be in his crate or within your eyesight at all times. Understand his signs that show you when he wants to go: sniffing for a spot, walking in circles or squatting. When you see a sign, take him out straightaway and use your command.
If he starts to go inside, make a loud sound such as "Ah!" or clap your hands loudly. That will startle him and usually make him stop momentarily. Take him out right at that moment. Use the command and reward him if he goes. That trains him to know that inside is not the place to go potty but outside is.
6. Manage Accidents Appropriately
It's natural that there will be accidents, especially in the early stages. The trick is to correct them at the time.
Dogs have short term memory. That's when their behaviour needs to be corrected. If you find a mess after it has happened, don't rub his nose in it as he won't know why you're doing that. It actually affects training in a negative manner. He'll link fear with you instead of his mess.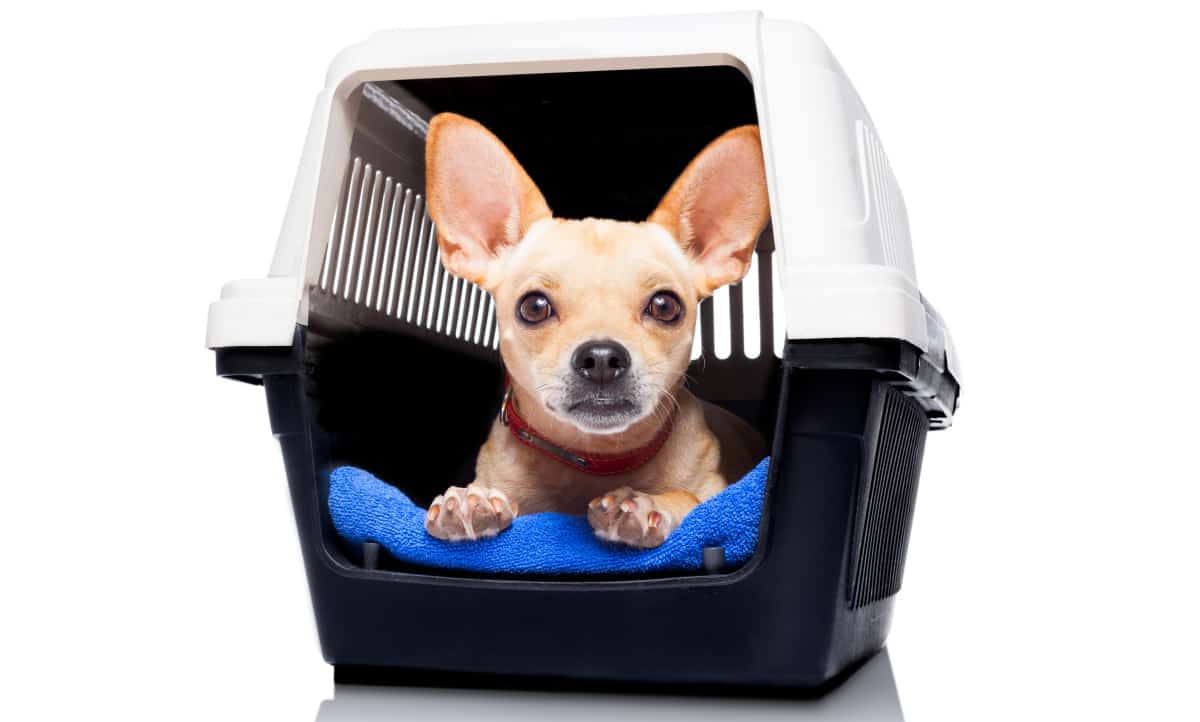 Use a cleaner that breaks the mess down so it will stop future accidents. If a dog smells a spot where he has gone before, he's more likely to go there again. That's not good, whether it's inside or outside. Some cleaners simply mask the smell. You need an enzyme-based cleaner that chemically breaks it down so your dog can't smell it later.
7. Consistency and Patience
New habits take time. If you give your dog patience and remain consistent in your own behaviour, it will be easier to train him to know what you expect from him.
Crate Training for Older Dogs Final Thoughts
That's it – 7 tips to crate train your older dog. Use these tips and you'll soon have a well-trained dog who will only go potty outside.


Copyright Caninepals.Com. All Rights reserved.