Picking a dog groomer is an important decision. In order to find the best groomer, you should first think about what your budget is and where you live. You can also ask friends or neighbors for recommendations. Once you have narrowed down to who might be good options, it's time to do some research on them.
If you own a pet, then pet grooming is a crucial part of that ownership. Most owners don't want the hassle of grooming their dog themselves because it's either too difficult or too time-consuming. It's messy and if it's not done properly, it can cause harm to your pet.
A dog's physical appearance is important because it reflects its overall health, which becomes more difficult to maintain if not cared for properly – especially when they have long fur that requires brushing on a regular basis. The needs vary from small breeds who just need trimmed nails (which you should do every three months) up to large dogs who require baths as well.
Although having your dog groomed by a professional might be expensive, it's well worth it because your pet will look and feel good and that will make him happy and you'll also be happy and have good peace of mind. However, there are some poor groomers out there who, although properly trained, don't do the best job and there have been cases where dogs have been mistreated or hurt as a result.
Your dog groomer should be kind, trustworthy, and have experience handling dogs. Follow these tips for finding the best person to groom your pup.
To find qualified good dog groomers today just takes some simple internet research. There is no need to drive around town looking for one: all you have to do is visit their website or look online on sites like Facebook for reviews left by people that actually use them regularly.
How to Find a Good Dog Groomer
The first place you want to look is on the internet. Type in "finding a dog groomer" and it will bring up all sorts of businesses that perform this service near your area, along with their contact information if they have one available. Sometimes there's also reviews for these companies too.  The next step would be checking out any website or Facebook page that may exist from them as well. Finally, go visit whichever company best suits what you're looking for by having an open mind about where/who might offer what type of services needed because sometimes people only hear about certain places but others are more suited based on personal experience.
The next time you're at the vet's office, ask for a recommendation from them. They may know of reputable groomers in your area and if not they can recommend someone who works out of their clinic.
If you meet someone with a similar breed as yours and their dog looks nicely groomed, ask which groomer they use.
Ask you breeder who they recommend.
Dog grooming associations can be a great resource for finding the perfect groomer. These websites are usually well-organized and have many useful features including "Find A Groomer" search function that will help you locate an ideal match in your area.
Finding Good Dog Grooming Professionals
There are lots of professional dog groomers available so you have to find the one you trust that's right for both you and your beloved pet.
First you need to work out what you need from a groomer. Do you need a mobile groomer or one with their own salon?
Find out what services the dog groomer offers:
Does the dog groomer offer a mobile service or pick-up and delivery?
Do they collect your dog from you and return him when he's done?
Have they been professionally trained and how experienced are they?
Do they do bathing, drying and brushing?
Do they clean ears, clean teeth?
Is nail clipping provided as part of the service?
Do they specialize in small or big dogs?
Are they experienced in handling show dogs?
Do they offer discounts for two or more dogs?
Does the dog's size affect the price?
Questions Owners Should Ask Dog Groomers
What credentials do the groomers have?
What is the price for their services? Do they have a list of prices, with specifics about what each service includes and how much it costs?
Do they have experience grooming breeds like yours? Do their staff members know how to groom your breed of dog properly, or are you just taking a risk each time with an unfamiliar company's service.
Ask if they have before and after photos to show you of dogs similar to yours.
Will your dog be left unattended on a grooming table?
Will trainees be grooming on your dog?
Will your pets always have the same person to groom them?
Do you have insurance to cover my dog in case of an emergency or an accident?
What would you do in an emergency?
Ask them for references.
Do they have a waiting list?
If a groomer is heavily booked, that's a strong indicator that he's trustworthy, reliable and is good at what he does.
Seek advice from other owners. You may be able to get recommendations.
Do More Research on the Potential Dog Groomer
Once you have narrowed down who might be good options, it's time to do some research on them! Look up reviews online and see if they have any complaints filed against them. If there are complaints, pay attention to how honest the company is in their response. If they seem defensive or refuse to take responsibility, that may not be a company that will treat your pet well during grooming sessions. It's worth spending some time researching this process before selecting your pup's groomer.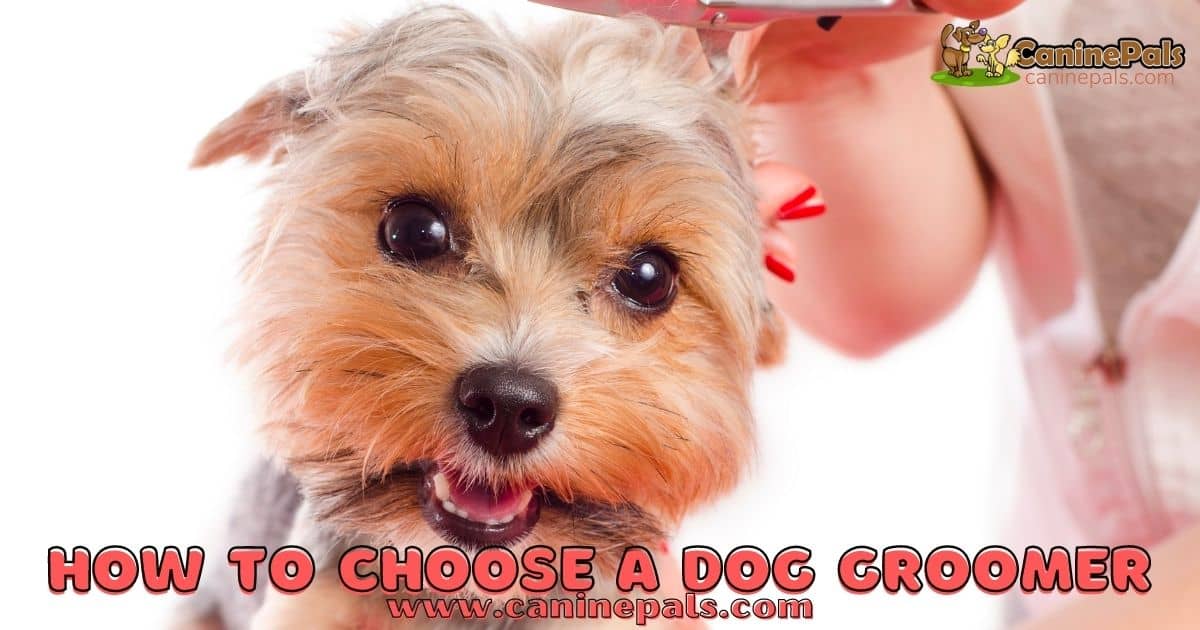 Visit the Salon Before Making a Grooming Appointment
Before you schedule your grooming appointment, it is important to visit the salon first. The groomer will be happy to show and chat with you about their space before they take on a new client. Meet all of their staff and get an idea for how they operate. A good dog groomer will make sure that your visit is enjoyable while also making it clear what grooming package would be best suited for your needs.
Dog Grooming at the Grooming Salon
The grooming visit is supposed to be enjoyable and safe for both the pet owner and their pup. Do you think your dog will handle being sent into an unfamiliar environment for grooming sessions?
How can you ensure your dog has a positive experience at the groomer's?
The right dog groomer should be able to meet any physical or behavioral needs while still achieving an attractive haircut.
When it comes to dog grooming, many people prefer a regular salon experience while others like the convenience and comfort of their homes. The question is which option would be better for your pup?
How Often Should Your Dog Visit the Dog Groomer?
There are many benefits of grooming – not only does a professional trim help keep the hair in good condition and prevent matting so no matter how long their coat is they always have a healthy feel.
Grooming also helps get rid of any excess dander or dirt that may be stuck deep within fur which keeps allergens at bay for those with sensitivities. It can even make them smell better too.
Dogs don't need to be bathed every time they're trimmed but seeing an expert once per month will really give him shiny coats and reduce shedding while making sure all his potential mats are taken care of before anything becomes unmanageable.
What Would You Like Your Dog Groomer To Do?
Here are some things that a dog grooming service might be able to provide: nail trimming, ear cleaning and plucking, sanitizing baths for dogs of all sizes. They might also offer special services such as brushing teeth or clipping hair around the eyes.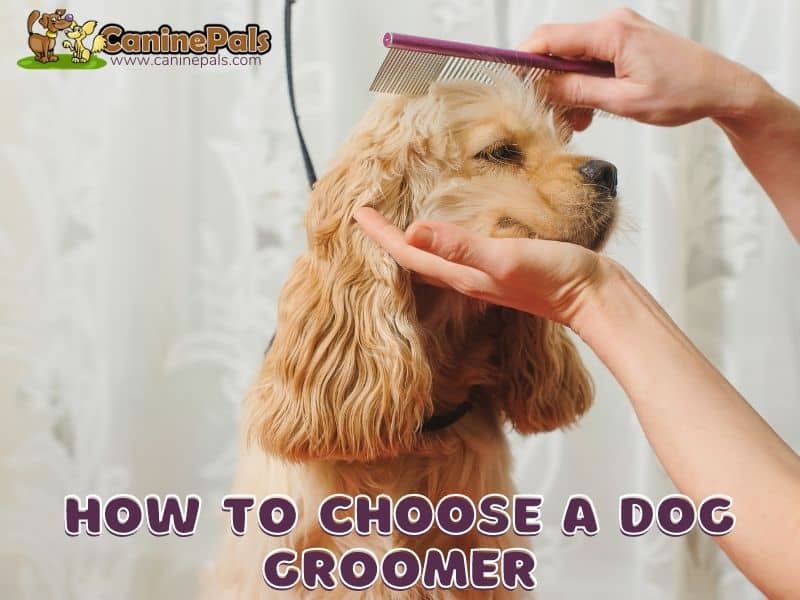 How to Keep Your Dog Groomer Happy
The relationship you have with your dog groomer is very important, for it's a bond that leaves much-loved dogs in their care. Here are some tips to ensure they're happy and keep them around:
Give as many specifics as possible about what you expect of the finished groom. Provide a photo if possible.
You know how we all want our dogs to look at their best? But sometimes, it's just not possible. In cases of extreme matting where the groomer can't do anything for you dog without causing distress, they'll recommend a short trim this time around and maybe even schedule another appointment in the future as well as educating customers on home grooming maintenance.
Be punctual. The dog groomer is not running a dog crèche.
Dogs must go to the potty place before any grooming appointment. Your pet will be much more comfortable and cooperative with their groomer if he or she is already empty from using his/her bathroom spot beforehand.
Make sure to let your groomer know the dietary requirements of your dog so they can easily plan out a healthy menu. If you want them to use certain treats, be sure and bring those with you.
Give your groomer a heads up if you think there's something wrong with your dog that might affect their grooming.
Feel confident in your furry friend's health by scheduling regular appointments for preventative treatments and keeping an eye out for signs of fleas. It is not a good idea to take a flea infested pooch to any groomer.
Never take a female dog in season to a dog groomer.
Tell them that you don't know how to groom your dog, but would like to learn how to maintain the dog's coat between salon visits.
Ask them if they have any tips on where to buy dog grooming products from a trustworthy source?
Ask the groomer for advice on which grooming products to use on your dog between grooming sessions.
Check Your Dog After a Visit to The Dog Groomer
When you visit a groomer for the first session, carefully check your dog afterwards. Most pets will be a bit shaken but if your dog is very nervous or shy when he gets home, he may have been harmed.
Look for razor burns, scratches or cuts. See if there are red rashes. Check the nails as some professionals have split nails or cut off dew claws accidentally whilst trimming.
If you believe that the groomer has mistreated your pet, the first step is to talk to that groomer. Show them the problem and ask for an explanation.
If that doesn't satisfy you, you have two choices. You can report them to the organisation that gave them the licence. They can advise you on how to what else you can do. You can call Consumer Affairs. This will be advertised publicly so other people will see your complaint and may decide not to use that groomer without further questions.
A licence to be a dog groomer is like a licence to be a cosmetologist. There are certain standards that must be followed. If the groomer hasn't complied, they can be placed on probation or lose that licence.
If it's a severe case of mistreatment, you can call the police and/or animal control and report them. As with every registered business, there are black lists and your groomer can be put on such a list if a problem was proved to be true.
As with hairdressers and mechanics, you may need to try several groomers before finding the ideal one for your needs. Some aren't qualified to do certain things. Make your choice wisely and report problems you discover.

Final Thoughts on How To Choose a Dog Groomer
Grooming is designed to make sure the pet is healthy, both from a physical and emotional viewpoint. Your dog must be groomed so he looks good and maintains skin health. Correct grooming will ensure this is the case.
When you do find the right groomer for your needs, stick with them. Your dog's safety is worth more than money. It's peace of mind and also the mental and physical comfort of your pet that's at stake. You can spread the word and tell others that he or she is a great groomer.
Copyright CaninePals.Com. All Rights Reserved